Situationist National

The approach and shape of the stories that we choose to tell have subtle messages' L.Kapila

Lois Kapila, editor of the Dublin Inquirer, contributed an article to the 2017 winter issue of 'The Stinging Fly' entitled "On Non-Fiction on Housing and Homelessness". It discusses how different types of journalism and storytelling can be employed to effectuate different responses on the topic. She describes how factual reporting can uncover untold truths, intimate interviews can humanize personal struggles and a solution-focused writing can even empower readers. In response to this discussion, our study and narrative experiments with the form of the illustrated essay, to question how the spatial experiences of those who are homeless in Dublin might be represented.

It is important to say that homelessness is by no means restricted to those who sleep 'rough' but it follows that one of the most palpable ways of conveying the current housing emergency comes from the rituals of those who experience it first-hand and in the public realm. The stories of those who are now without homes in our city are underlined by the everyday imagery of homelessness and poverty.
The essay portrays another way that the spaces of the city, its streets, doorways, bridges and steps are being used it - highlighting a growing presence of homelessness, the extent of the housing crisis and its urban and social consequences. It attempts to visually measure the spatial experiences and social life of a disrupted and domesticated collective space and in turn, challenges our idea of the public and private realm.

Our research was presented at the AIARG 7 2018 and the essay was published in Buidling Material 22
The Boardwalk


"ici commence l'aliénation"


A step between the heavy traffic along the quays and the Liffey. Tourists and locals, in a row, sit facing the sun, and looking out across the river. Its 'regulars' include those who have nowhere to go but simply wish to pass time or find a moment of privacy. It shelters its public - but this perhaps also encourages the less social activities for which the boardwalk is also reputed. The different activities along its length change the atmosphere from safe to unstable with every step.





Capuchin Centre

"La beauté est dans la rue"

Bow Street is most commonly traversed in the direction to or from Smithfield. Walking north the stone sets fade and a monastic stone wall appears. It is punctured by two doors framed in cut granite, one narrow and one wide.

Visit 1, 4pm Saturday, closed. A car makes a u-turn in the calm and empty street. "Do you know the name of a priest in there?" asks a passing woman her hands heavy with groceries.

Visit 2, open, 2pm Wednesday.

Six men queue queue to enter an open door. A couple leave, one assisted by a stick. Others join the queue. Behind the stone wall the routine hum is audible. The street parking on Francis's terrace is full. A parking ticket is paid for at the metre. Opposite the centre a for sale sign hangs outside no.18.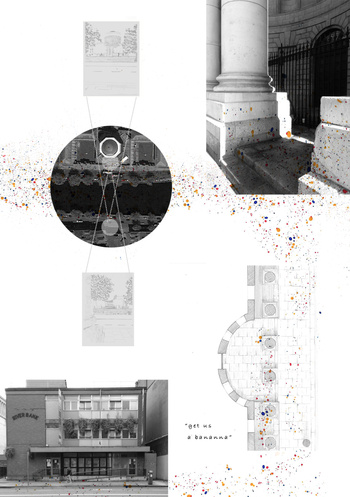 Four Courts I
Merchant's Quay

The Four Courts stands monumentally as a symbol of a civic strength that once was - now commonly appropriated into a sleeping space. Vistas cut through the colonnade to the Merchant's Quay Homeless and Drugs Services centre. Oftentimes sleepers are concealed in the shadows, other times they set up a prominent position as if to protest.
Hidden Room I Utility Room

6pm. Cars crawl out from the multi-storey basement onto an empty Loftus Lane. Someone has left their pyjamasout to dry. THe sign says danger and directs me to Parnell. THe room disappears with the curve of the street., hidden in the brick alcove of another vacant building.
Method

We adopted a position of surveyors. Our approach consists of walking and mapping a notional daily route of a rough sleeper in Inner City Dublin and recording the patterns of movement that underlie the daily rituals of a domesticated streetscape.
We returned to document the sites a number times, sometimes together and sometimes alone, and tried weave our recordings into a kind of tapestry or map that both portrayed wider contextual analyses of the sites and also more intimate scenes. Using these maps, sketches and photographic images we




sought to articulate a visual experience that captures the human sites of homelessness.

This field research, depicted in a narrative of 'constructed situations', invites the viewer to take a closer look at adjacent narratives within a familiar landscape. Our cartography illustrates the city as a human geography to find further social and physical understandings of these public/private spaces.
Publication
Psychogeographical Map

The colored dots running through the scenes represent these changing patterns - of time, of people, of culture and situation. The urban rooms themselves are also transient and fleeting and so there is a dichotomy in their ephemeral nature versus the permanence of recording them.